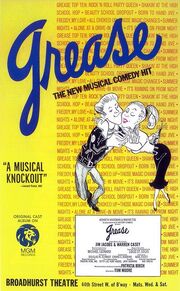 Stage Musical (1971), Film Musical (1978).
Music and Lyrics (stage): Jim Jacobs, Warren Casey, Additional Music and Lyrics (film) John Farrar, Barry Gibb, Louis St Louis.
Set in the rock and roll era of the 1950s, it follows the story of innocent Sandy Dumbrowski, and macho Danny Zuko who, after a brief summer romance, unexpectedly reunite in their high school.
Stage Reviews
Edit
Movie Reviews
Edit