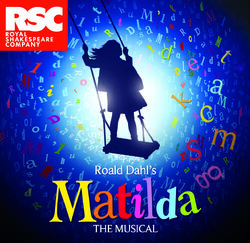 Matilda the Musical
is a musical written by
Dennis Kelly
, with music and lyrics by
Tim Minchin
. It is based on the
children's novel of the same name
by
Roald Dahl
. It concerns a precocious 5-year-old girl who loves to read and how she overcomes family and school obstacles and helps her teacher to reclaim her life.
After a Royal Shakespeare Company tryout in Stratford for twelve weeks from November 2010 to January 2011, it received its West End premiere on 24 November 2011 at the Cambridge Theatre with a production opening on Broadway in April 2013. Matilda has received widespread critical acclaim and box-office popularity. The show won seven 2012 Olivier Awards, including Best New Musical, the most such awards ever won by a single show at the time.[1] The show as of the 2013 Olivier award's now jointly holds the record with the play The Curious Incident of the Dog in the Night-Time.[2]
The show is currently running in the West End and on Broadway.
Productions
Edit
Stratford and London
Edit
In 2009, the Royal Shakespeare Company announced its intention to stage a musical adaptation of Matilda, engaging the writer Dennis Kelly as playwright, Tim Minchin as the composer and lyricist, with direction by Matthew Warchus, orchestrations and music supervision by Chris Nightingale, set design by Rob Howell and illusions and special effects by Paul Kieve.[3] The musical opened at the Courtyard Theatre in Stratford-upon-Avon, England, on December 9, 2010, following previews from November 9.[4] The choreographer is Peter Darling. Bertie Carvel headlined as Miss Trunchbull, with Paul Kaye and Josie Walker as Mr. and Mrs. Wormwood, Matilda's parents, and Warchus's wife Lauren Ward as Miss Honey.[5] Three young actresses alternated in the title role: Adrianna Bertola, Josie Griffiths and Kerry Ingram.[6][7] The show ended its premiere engagement on January 30, 2011.[8]
In 2011, the musical received its West End debut at the Cambridge Theatre. The show was originally scheduled to begin previews on 18 October 2011. Due to structural and installation work at the theatre, the start of the performances was delayed until 25 October. This subsequently pushed back the opening night from 22 November to 24 November.[9] The musical opened in London to uniformly glowing reviews, with Kaye and Carvel receiving especially high praise for their performances.[10][11] All of the principal adult cast returned from the Stratford run. Four actresses rotated in the title role: Eleanor Worthington Cox, Cleo Demetriou, Kerry Ingram (the only one to reprise the role from Stratford), and Sophia Kiely.
In October 2011, Matilda won Best Musical and Best Actor (Bertie Carvel) in the Theatre Awards UK,[12] and in November 2011 it won the Ned Sherrin Award for Best Musical as part of The Evening Standard Awards.[13] The production was nominated in all 10 categories for which it was eligible at the 2012 Olivier Awards. The 'Four Matildas' performed "Naughty" at the awards show. Matilda won 7 Oliviers: Best New Musical, Best Director (Warchus), Best Actor in a Musical (Carvel), Best Actress in a Musical (all four Matildas), Best Theatre Choreographer (Darling), Best Set Design (Howell) and Best Sound Design (Baker). This is a record number for any show in the event's 36th year history.[1]
In April 2012, Steve Furst and Hayley Flaherty took over the roles of Mr. Wormwood and Miss Honey, respectively, from original stars Kaye and Ward. Two of the original London Matildas (Ingram and Kiely) also were replaced by Jade Marner and Isobelle Molloy. From July 2012, David Leonard played Miss Trunchbull, with Annette McLaughlin assuming the role of Mrs Wormwood in August 2012. The production then welcomed four new girls as Matilda: Lucy-Mae Beacock, Hayley Canham, Chloe Hawthorn and Lara Wollington.[14][15]
On November 19, 2012, the current London cast were invited to perform at the 100th "Royal Variety Performance" for ITV. They performed "When I Grow Up" and "Naughty". The show was broadcast nationwide December 3.
In March 2013, Hayley Canham, who had been playing Matilda, left the show, and was replaced by two new Matildas, Elise Blake and Cristina Fray. Chloe Hawthorn, Lucy-Mae Beacock and Lara Wollington remained in their roles.
On 29 February 2012, the RSC announced the show would transfer to Broadway in Spring 2013,[16] and will still be set in England despite initial pressure for the show to be Americanised.[17] On 19 July 2012, it was announced that the show would open on 11 April 2013, at the Shubert Theatre,[18] with previews commencing on 4 March 2013.[19] Original cast member and Olivier award winner Bertie Carvel reprised his role as Miss Trunchbull,[20] with Lauren Ward[21] and Ted Wilson also continuing as Miss Honey and Eric from the West End production. On 15 November 2012, the Associated Press announced that 9-year-old Sophia Gennusa, and 10-year-olds Oona Laurence, Bailey Ryon and Milly Shapiro, all making their Broadway debut, will alternate playing the lead role as Matilda.[22]
The transfer cost 16 million dollars to produce[23] and opened as planned on 11 April 2013, with Sophia Gennusa playing the leading role.[24] Small changes were made from the London production, with some lyrics being changed to suit the American ear,[25] and more scenes using the stalls/orchestra seating area of the theatre.[26]
As a chorus of children boast "My mummy says I'm a miracle" the ballroom-dancing obsessed T.V. addict Mrs. Wormwood gives birth to a baby girl called Matilda Wormwood. Whilst the doctor professes Matilda the most beautiful child he has ever seen Mrs. Wormwood is more worried about a dancing-contest she has missed and Mr. Wormwood, a dodgy used-car salesman, dismisses the child as "an ugly little thing" (and also automatically assumes it is, and wishes it were, a boy) ("Miracle").
Five years later, Matilda lives an unhappy existence with Mr. and Mrs. Wormwood and her older, gormless brother Michael. At only five years old Matilda can already read and gets through several books a week. The Wormwoods are oblivious to Matilda's gift and frequently mock and verbally abuse her. Matilda, who believes that anything that's not right must be put right, realises that sometimes, to make things right, you have to be a little bit ("Naughty"); so adds some of her mother's hydrogen peroxide to her father's hair oil, leaving Mr. Wormwood with bright green hair.
At the local library Matilda, who frequently entertains the librarian, Mrs. Phelps, with exciting tales, begins to tell Mrs. Phelps a new story about an extraordinary Acrobat and Escapologist; internationally famous they are beloved by all and wow crowds with their daring performances. The Acrobat and Escapologist long to have a child but have been unable to conceive. To distract themselves from their sadness the pair announce to the world press that they will be performing an exciting and dangerous new act: "The Burning Woman Hurling Through The Air, With Dynamite In Her Hair, Over Sharks and Spiky Objects Caught By The Man Locked In The Cage".
The next day is Matilda's first day at school. As her classmates arrive with the usual nervousness of a child going to school for the first time, the older children do nothing to dispel their fears, instead warning them that even putting in effort there, is a waste of energy ("School Song"). Her teacher, Miss Honey, is immediately impressed by Matilda's precociousness and ability, so she resolves to recommend that Matilda is moved to the top class with the older children ("Pathetic"). However, the headmistress, Miss Trunchbull (a cruel and sadistic disciplinarian and former hammer-throwing world champion, who firmly believes in the school motto: "Bambinatum est Maggitum"—Children Are Maggots), dismisses Miss Honey's suggestion and lectures her on the importance of adhering strictly to "The Rules" ("The Hammer").
Back at the Wormwood household, Mr. Wormwood is frustrated that a group of wealthy Russians didn't fall for his lies about a number of worn-down old cars he had been trying to sell them at exorbitant prices. He takes his frustration out on Matilda and destroys one of her library books; prompting her to put superglue around the rim of his hat. ("Naughty" Reprise).
At school, Matilda learns of Miss Trunchbull's cruel punishments, including Chokey, a tiny, dank cupboard with broken glass and nails in the walls and floor that she locks naughty children in for hours on end ("The Chokey Chant"). Matilda soon witnesses Trunchbull's wickedness firsthand when the furious headmistress spins a small girl around by her pigtails and throws her across the playing field.
Meanwhile, Miss Honey decides to pay the Wormwoods a visit to express her recommendation that Matilda be put in an advanced class. She meets Mrs. Wormwood and her faux-Italian ballroom-dance partner Rudolpho. It soon becomes apparent to Miss Honey that Mrs. Wormwood couldn't care less about her daughter's advanced intelligence and Mrs. Wormwood mocks Miss Honey's interest in books and intellect over television and make-up ("Loud"). Alone outside the Wormwood household, Miss Honey is desperate to help Matilda ("This Little Girl").
Matilda tells Mrs. Phelps more about the Acrobat and the Escapologist. The performance of their new feat has been arranged by the Acrobat's sister, a former world champion hammer-thrower who loves to scare small children. Just before their act begins the Escapologist announces that the performance will be cancelled as the Acrobat is pregnant. The crowd is thrilled, but the Acrobat's sister is furious at the prospect of refunding the crowd's money and produces a contract that the Acrobat and Escapologist have signed binding them to performing the act or else spending the rest of their lives in jail.
At school, Bruce Bogtrotter, a boy in Matilda's class, has stolen a slice of Miss Trunchbull's personal chocolate cake. When she discovers this, she decides to punish Bruce by forcing him to eat an entire cake all by himself in front of the class, who bravely support him ("Bruce"). After Bruce has finished the cake, the class celebrates his success but Miss Trunchbull drags Bruce away for the second part of his punishment: Chokey.
At the end of the interval, Mr. Wormwood appears with a disclaimer, apologising for the show's rampant support for reading and warns children that if they do read they will go blind, become smelly and get verrucas (of the soul). He then introduces what he considers to be "the pinnacle of man's success and the reason we evolved out of unicorns in the first place": television ("Telly"), after which Lavender, a girl in Matilda's class, confides in the audience that, in a bit "coming up", after being given the job of preparing Miss Trunchbull's jug of water, she finds a newt and puts it in the jug.
After the 'Entr'acte' the children sing about how they imagine adulthood is like, Miss Honey laments and Matilda resolves to put an end to Miss Trunchbull's cruelty ("When I Grow Up").
Matilda tells Mrs. Phelps more about the Acrobat and the Escapologist. Bound to their contract they perform the feat and all seems to go well until the last moment when the Acrobat slips and falls to the ground breaking every bone in her body (except the ones at the ends of her little fingers); she lives just long enough to give birth to a beautiful baby girl. The Acrobat's sister soon moves into the house with the Escapologist and his daughter. She is incredibly cruel to the little girl, forcing her to do menial tasks and frequently abusing her verbally and physically, but the Escapologist is too saddened by his wife's death to notice.
Mr. Wormwood returns home from work delighted that he has been able to sell the worn-down cars to the wealthy Russians after all, having hit on a plan to use an automatic drill to wind back the odometers on the cars, seemingly reducing the mileage. Matilda is annoyed at her father's flagrant deceit and tells him off for it. This angers Mr. Wormwood and he verbally abuses Matilda before locking her in her bedroom. That night Matilda continues the story of the Acrobat and the Escapologist on her own. After years of cruelty the Acrobat's sister's fits of rage have grown to the point where, one night, she beats the Escapologist's daughter, tells her she is a "useless, filthy, nasty little creep" and locks her in the basement and goes out. However that evening the Escapologist returns home early and hears his daughter crying in the basement. He breaks down the door and discovers the extent of the Acrobat's sister's cruelty. As he comforts his daughter he promises her he will always be there for her from now on, as his wife had made him promise on her deathbed. Filled with a sudden rage, he runs out into the night to find the Acrobat's sister, but is never seen again ("I'm Here").
The next day, Miss Trunchbull forces Miss Honey's class to participate in a grueling physical education lesson ("The Smell of Rebellion"). When she goes to drink from her water jug, she discovers the newt inside and immediately accuses the first child she lays eyes on. Matilda stands up and tells Miss Trunchbull off for being a bully. Trunchbull launches into a tirade of abuse against Matilda, but Matilda retreats in her mind to a place where everything is 'quiet' and discovers she has the ability to move objects with her mind ("Quiet"). With her newfound ability, she tips over the Trunchbull's water jug, soaking her in water, with the newt ending up in her knickers. Afterwards, Matilda demonstrates her powers to Miss Honey. Taken aback, Miss Honey invites Matilda back to her house for a cup of tea. On the way there Matilda finally admits that her father is not proud of her and calls her names (having previously failed to correct Mrs Phelps's assumptions of how proud her parents must be).
Miss Honey's house turns out to be nothing more than an old farm shed. Matilda discovers that Miss Honey has been forced to live in abject poverty by her cruel and abusive aunt, who looked after her as a child after her parents died. When Miss Honey first got her job as a teacher, the aunt produced a bill of every meal and drink Miss Honey had ever had as a child, as well as any other conceivable expense, and forced Miss Honey to sign a contract binding her to pay it all back. Despite all this, Miss Honey manages to find a simple beauty in her meagre living conditions. As Miss Honey tells her story, Matilda soon realises that the story of the Acrobat and the Escapologist is the story of Miss Honey's childhood, and that the wicked aunt is Miss Trunchbull, who murdered the Escapologist, Miss Honey's father ("My House").
Back at school Miss Trunchbull forces the children to participate in a spelling test; anyone who fails to spell a word correctly will be sent to Chokey. As she discovers the children have been taught well by Miss Honey, and fail to misspell a single word, Miss Trunchbull invents a word to force the children into Chokey. As the victim of being given this word to spell fails and is about to be taken to Chokey, her classmates one by one deliberately misspell simple words, declaring "I spelt it wrong miss, you'll have to put me in Chokey too" and "You can't put us all in Chokey". But Miss Trunchbull replies that she can - she has built many, many more Chokeys. At this moment Matilda uses her powers to make a piece of chalk write on the blackboard and make Miss Trunchbull believe that it is the ghost of Miss Honey's father demanding that the Trunchbull give his daughter back her house or he'd get her "like she got him" and then leave. This causes the Trunchbull to run from the school screaming, and the children celebrate their new-found anarchic freedom ("Revolting Children").
At the library, Miss Honey and Mrs. Phelps tell of the aftermath of the events; a few days after the Trunchbull had run away, Miss Honey received a letter from a solicitor saying that her father's will had mysteriously been found and all his money and his house were left to her. Miss Trunchbull was never seen by anyone ever again, and Miss Honey became the new headmistress of the school. They tell how Matilda was never again able to use her powers - Matilda says she doesn't need to, but Miss Honey would be angered that the girl who'd done so much to help her and others was still stuck with such a cruel family. Mrs Phelps says that's the end and that stories don't always have happy endings. At that moment the Wormwoods arrive at the library in a panic telling Matilda that she has to leave with them now, as they are running away to Spain. It transpires that the wealthy Russians Mr. Wormwood was dealing with were in fact the Russian Mafia, who are not at all happy about being sold broken cars. Miss Honey asks if Matilda can stay with her, but before a decision can be made, the Mafia arrive. Sergei, the head of the Mafia, is impressed and moved by Matilda's intellect and respect, and he agrees to not harm the Wormwoods (as long as he never has to deal with Mr Wormwood again when doing business) ("This Little Girl" Reprise).
A grateful Mr. Wormwood thanks Matilda and agrees to let her live in happiness with Miss Honey.
Musical numbers
Edit
Act I[27]

"Miracle" – Children, Doctor, Mrs Wormwood, Mr Wormwood, Matilda, Company
"Naughty" – Matilda
"School Song" – Children, Teacher
"Pathetic" – Miss Honey
"The Hammer" – Miss Trunchbull, Miss Honey, Children
"Naughty" (Reprise)-Matilda*
"The Chokey Chant" – Miss Trunchbull
"Loud" – Mrs Wormwood, Rudolpho
"This Little Girl" – Miss Honey
"Bruce" – Children

Act II[27]

"Telly" – Mr Wormwood, Michael, Company
"Entr'acte" - Musicians
"When I Grow Up" – Children, Miss Honey, Matilda, Company
"I'm Here" – Matilda, Escapologist
"The Smell of Rebellion" – Miss Trunchbull, Children
"Quiet" – Matilda
"My House" – Miss Honey, Mr. Honey, Matilda
"Revolting Children" – Children
"This Little Girl" (Reprise)-Sergai*
"When I Grow Up" (Reprise) – All
*=Not in the soundtrack or listed in the Playbill/Program
A London performance runs 2hrs 40mins, including one interval of 20mins.[28] A Broadway production has the same run time,[29] including a shorter interval of 15mins.[30]
The cast album, recorded by the original Stratford company, became available in October 2011 as both a CD and Digital Download. It features a hidden track which follows "When I Grow Up" (Reprise).[31]
Principal roles and cast members
Edit
Character
Original Stratford actor
[32][33]
Original West End actor
[34][35]
Original Broadway actor
[36][37][38] [39]
Matilda Wormwood
Adrianna Bertola, Josie Griffiths, Kerry Ingram
Cleo Demetriou, Eleanor Worthington Cox, Sophia Kiely, Kerry Ingram
Sophia Gennusa, Oona Laurence, Bailey Ryon, Milly Shapiro[40]
Miss Trunchbull
Bertie Carvel
Miss Honey
Lauren Ward
Mr Wormwood
Paul Kaye
Gabriel Ebert[40]
Mrs Wormwood
Josie Walker
Lesli Margherita
Michael Wormwood
Peter Howe
Taylor Trensch
Mrs Phelps
Melanie La Barrie
Karen Aldridge[40]
Cook
Verity Bentham
The Escapologist
Matthew Malthouse
Ben Thompson[40]
Sergei
Alistair Parker
John Sanders[40]
Henchmen
Marc Antolin & Nick Searle
Thayne Jasperson & Ryan Steele
Henchwoman
did not appear
Lucy Thatcher
Tamika Sonja Lawrence
The Acrobat
Emily Shaw
Samantha Sturm[40]
Teacher
Michael Rouse
Tim Walton
does not appear
Doctor
Michael Rouse
Tim Walton
John Arthur Greene
Party Entertainer
does not appear
does not appear
John Sanders
Rudolpho
Michael Rouse
Gary Watson
Phillip Spaeth[40]
Bruce
Kuan Frye, Jake Bailey & James Beesley
Jake Bailey, James Beesley, Zachary Harris
Jack Broderick, Judah Bellamy, Luke Kolbe Mannikus & Sawyer Nunes[40]
Lavender
Ruby Bridle, Rebecca Stoll & Misty May Tindall
Ruby Bridle, Jemima Eaton & Ellie Simons
Frenie Acoba, Erica Simone Barnett, Emma Howard & Heather Tepe[40]
Amanda
Katie Lee, Jadie-Rose Hobson & Lara Weaver
Lily Laight, Isobelle Molloy & Lucy May Pollard
Beatrice Tulchin, Erica Simone Barnett, Ava DeMary, Heather Tepe[40]
Nigel
Arthur Byrne, Adam Scotland & Jake Pratt
William Keeler, Alfie Manser & Jaydon Vijn
Jared Parker, Luke Kolbe Mannikus, Sawyer Nunes, Heather Tepe & Ted Wilson[40]
Eric
Shivum Gupta, Jack Christou & Toby Murray
Toby Murray, Louis Suc & Ted Wilson
Ted Wilson, Luke Kolbe Mannikus, Sawyer Nunes, Jared Parker, Heather Tepe[40]
Alice
Jessica Daugirda, Ellie Simons & Annabel Parsons
Alicia Gould, Jemima Morgan & Annabel Parsons
Ava DeMary, Madilyn Jaz Morrow, Heather Tepe[40]
Hortensia
Jessica Adair, Daisy Brophy & Shyanne Sanders
Oonagh Cox, Fleur Houdijk & Katie Lee
Emma Howard & Madilyn Jaz Morrow[40]
Tommy
Charlie Callaghan, Callum Henderson & Denzil Sampson
Thomas Atkinson, Jamie Kaye, & Callum Henderson
Judah Bellamy, Sawyer Nunes & Heather Tepe[40]
Reginald
Elliot Allinson, Thomas McGarrity & Robert Madge
does not appear
does not appear
Notable West End replacements
Reception
Edit
Both The 2010 RSC Stratford production and The 2011 London production received almost unanimous rave reviews from the National press and on the web.
Stratford
Edit
The stage version of Roald Dahl's classic has been hailed by one critic, writing for The Daily Telegraph as "the best British musical since Billy Elliot".[45]
"A quarter of a century ago, the RSC co-produced Les Misérables, which has turned into the West End's longest-ever running musical and a worldwide hit. Now, via an unfortunate detour with Carrie, one of the most notorious Broadway flops when they transferred it from Stratford to New York, they've finally hit the musical jackpot again." - The Stage[46]
"In short, Matilda is a brilliant piece of musical theatre that caters to adults and children alike. In addition, this particular production of the show is setting a benchmark for what I hope is the start of many successful productions in much larger towns and cities than Stratford-upon-Avon." - Lurkmorphy's Blog[47]
"Dennis Kelly's adaptation grips from the start… Jokes and numbers come thick and fast…Tim Minchin's lyrics, to his own music, are so good that the temptation to write them down could, at any point, make you miss some extraordinary sight." - The Times[48]
"The Royal Shakespeare Company has struck gold with this wildly entertaining musical… Dennis Kelly's clever adaptation and the witty, intricate songs by Aussie comic Tim Minchin create a new, improved version of Dahl's story." - The Independent[49]
"In this lovingly created show, Matilda's magic positively sparkles. There's a cleverness in the writing which ensures that, while it appeals to children, there is plenty for adults to savour…it's blissfully funny…There's a playfulness throughout that proves intoxicating." - Evening Standard[50]
"For as long as "Matilda" lasts, this disjointed old world seems fixable through the tools of pure imagination." The New York Times.[51]
"Tim Minchin's music and lyrics sparkle with wit and energy, demonstrating a touch of genius to rival that of the eponymous Matilda. Complemented by Dennis Kelly's book, they make up a piece which is by turns riotously funny and gut-wrenchingly poignant …, all brought vividly to life by Matthew Warchus' masterful direction." - Whatsonstage[52]
"Wart a show! A beasty baddie and stonking songs." Daily Mail[53]
"You'd be a nitwit to miss this hit show" The Guardian[54]
"Rejoice, my theatergoing comrades. The children's revolution has arrived on these shores, and it is even more glorious than we were promised. Rush now, barricade stormers of culture, to the Shubert Theater" The New York Times.[55]
"the best British musical since The Lion King". Time Magazine.[56]
"the smartest musical to arrive on Broadway in years". USA Today.[57]
"if your rotten mum or dad won't go, I suggest nicking their wallets and buying tickets yourself." Time Out Magazine New York.[58]
"Once in a blue moon, a show comes out blazing and restores your faith in Broadway. "Matilda The Musical" is that show." New York Post.[59]
"When I reviewed Matilda from London in February 2012, I began my over-the-moon remarks this way: "You read it here first: Although producers are currently wrangling over who will prevail in the campaign to bring Matilda -- the hit British musical at the Cambridge -- to Broadway, whoever prevails and whenever the transfer happens, it'll win the best musical Tony for whatever season in which it bows." "And guess what. This time I'm over the moon -- even higher and on trajectory to Pluto and beyond. The reason is that the terrific show is even better here than it was/is there." Huffington Post.[26]
Awards and nominations
Edit
London production
Edit
Broadway production
Edit
References
Edit
↑ Shenton, Mark. "RSC Presents Premiere of New Musical Matilda, Opening Dec. 9; Matthew Warchus Directs". Playbill. December 9, 2010.
↑ Serena Alllot. Waltzing Matilda: Dahl's classic dances on to the stage The Daily Telegraph, 26 November 2010
↑ Billington, Michael. "Review-'Matilda'"The Guardian, 10 December 2010
↑ Cite error: Invalid <ref> tag; no text was provided for refs named playbill
↑ Hetrick, Adam. "Lesli Margherita, Gabriel Ebert, Lauren Ward and More Join Broadway Cast of Matilda" Playbill.com (December 19, 2012)
↑ 40.00 40.01 40.02 40.03 40.04 40.05 40.06 40.07 40.08 40.09 40.10 40.11 40.12 40.13 40.14 40.15 40.16 Template:Cite web
↑ Matilda, Courtyard Theatre, review The Daily Telegraph, 10 December 2010
External links
Edit